Hegarty Building is a family-owned construction company that operates in the Bay of Plenty region.
Hegarty Building maintains the highest standards in the building industry and implements leading edge construction methods, tools and materials.
Our proud and motivated team strive to deliver projects on time, within budget, and to a high standard of quality that we, and the homeowners, can be proud of.
CUSTOMER SATISFACTION
We have adopted a customer centric approach to building as the end result must always be a satisfied customer.
Hegarty Building's solid reputation is key to our longevity and success within the industry.
TEAMWORK
We have fostered a culture of teamwork at Hegarty Building.
The synergy between our valued employees, trusted subcontractors and clients, allows us to achieve extraordinary results.
ACCOUNTABILITY
We are accountable to ourselves, our team members, and our clients. We follow through and get done what we said we would get done. 
If there are any short falls, we will take ownership of our work and promptly correct our mistakes.
QUALITY WITHOUT COMPROMISE
Through extensive carpentry expertise, innovation and ingenuity, we will provide a high quality finished product that exceeds the clients expectations.
SAFETY
Safety will always come first at Hegarty Building. As members of Hazardco we provide a safe environment for our employees and subcontractors.
INTEGRITY
We cultivate an environment of honesty, trust and respect, and hold ourselves to the highest ethical and professional standards.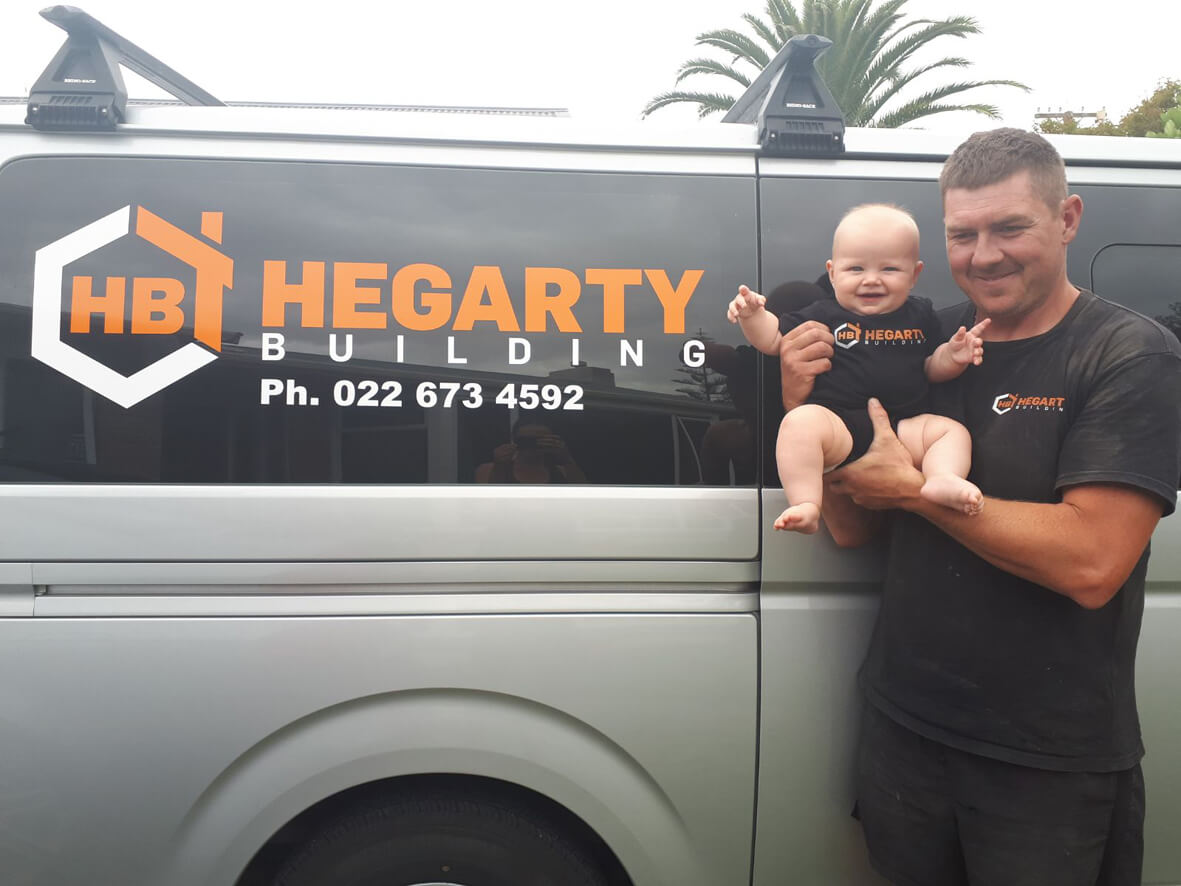 Rob's building career started in Ireland in 2000, where he gained his carpentry and joinery qualification after four years of study. Since landing on New Zealand shores, Rob has become a Licenced Building Practitioner (LBP) and a registered Master Builder.
In Ireland, Rob quickly climbed the ladder from apprentice to site foreman for a construction company that undertook a diverse range of building projects – new home builds, bespoke architectural homes, heritage building restoration, and large scale residential developments. Rob gained extensive experience in an array of carpentry techniques and building materials – the foundation of his solid carpentry knowledge.
Seeking a new challenge, Rob moved to Queensland, Australia, in 2009 and established a two man construction team that built cyclone-proof new builds, renovations and additions.
In 2016, Rob followed his partner, Monique, back to New Zealand where they settled in Mount Maunganui and established Hegarty Building Ltd.